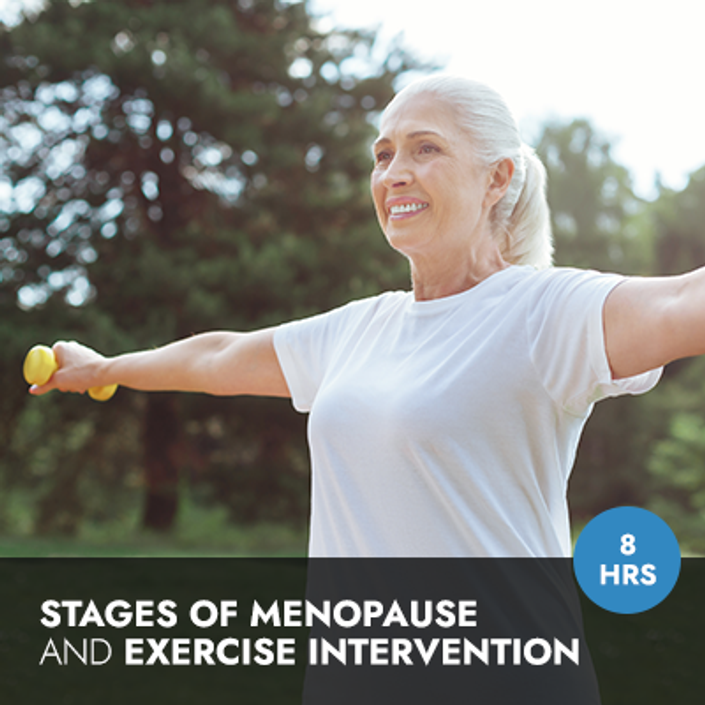 Stages of Menopause and Exercise Intervention
$399.00
Over 38 million baby boomer women, and another 25 million Gen-X females behind them, are or will be in various stages of hormonal changes which will influence, and will be influenced by, exercise. Regardless of activity level, most women experience signs, symptoms, and side effects of menopause, including but not limited to brain fog, weight gain, belly fat, hot flashes and night sweats, to name a few.
This 8-hour online course is designed to give medical fitness professionals the information, tools, and resources needed to coach and train this steadily growing population. Given the number of women who have not exercised previously, and the current void in proper hormone balancing exercise prescription, there exists numerous, lucrative opportunities for medical fitness professionals to positively impact the lives and health spans of a great many women still seeking answers.
Course Author: Debra Atkinson, MS, CSCS, Founder/CEO of Flipping Fifty
---
MedFit Network (MFN) Membership
This course includes 90-day free trial of professional MFN membership. This offer is valid for new members only, and instructions for creating your MFN account will be sent after course purchase. (Already a member? Existing MFN members are not eligible to receive a free trial, but do receive a discounted price on MedFit Classroom courses. Check your MFN account for details or contact [email protected])
Note: It is highly recommended that you complete this course using a browser other than Google Chrome (e.g., Firefox). The Google Chrome browser can automatically play all videos in a lesson at the same time, which may be an extremely annoying feature for some, and for which, at the present, there is no easy fix in the Google Chrome settings.
Your Instructor
This course is closed for enrollment.