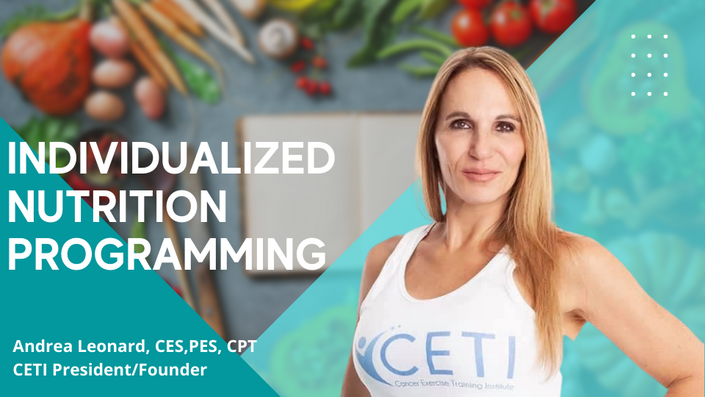 Individualized Nutrition Programming with CETI President/Founder - Andrea Leonard
Andrea has personally trained over 17,000 Cancer Exercise Specialists worldwide and has not accepted new clients for the last five years. Her goal is to devote a portion of her time to helping cancer patients and survivors reclaim their bodies, energy, self-esteem, strength, and overall quality of life with individualized exercise and nutrition programs.
­Andrea Leonard is a 39-year cancer survivor, author of "Essential Exercises for Breast Cancer Survivors," President/Founder of the Cancer Exercise Training Institute and world-renowned oncology exercise expert, 2019 PFP Personal Trainer of the Year, and has an MS in Functional Nutrition.
By achieving good overall health, proper nutrition can help reduce the risk of cancer, keep you healthier during treatment, and combat side effects and illness. Andrea will work together with you to optimize your nutrition, improve your energy levels, and ultimately improve your immune system and the health of your gut microbiome. You will meet with Andrea through ZOOM for an initial consultation and assessment (one hour). She will then create your individualized nutrition plan and schedule a follow-up ZOOM session/discussion to go over any questions/concerns that you may have.

Determining your individual nutrition needs
Identifying deficits and suggesting supplements
Evaluating your current eating plan
Education about label reading, nutrients, and quality of food
Meal planning and prep
Your Instructor
Frequently Asked Questions
Cancellation Policy
You musty provide at least 24 hours' notice of cancellation or your session will be forfeited.