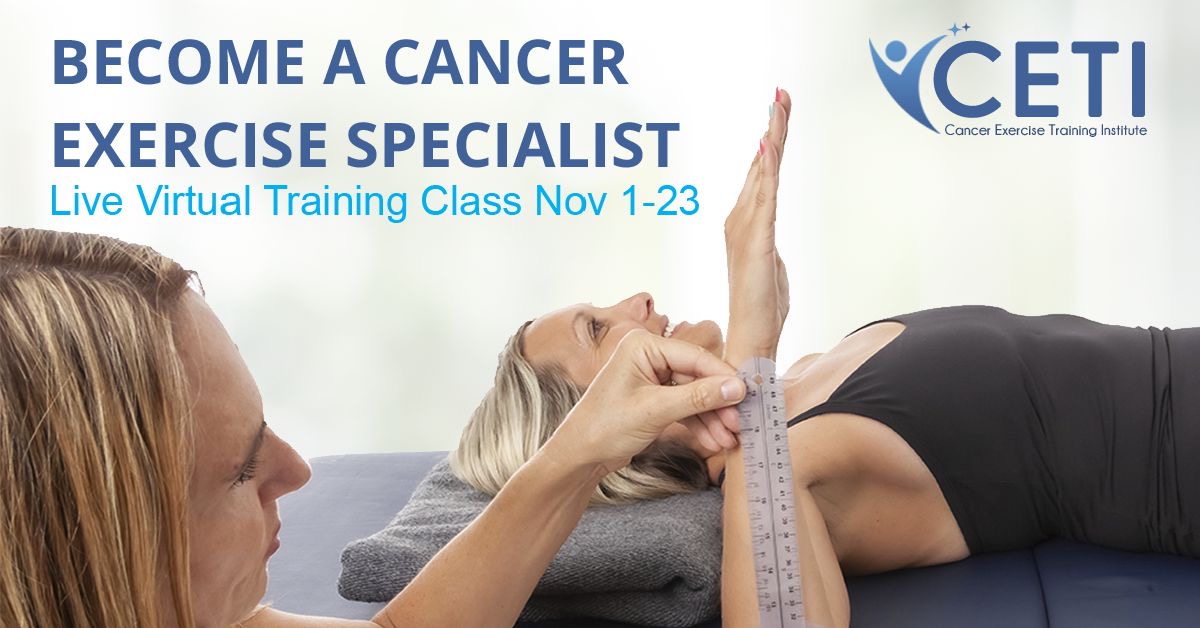 Live Virtual Training for the Cancer Exercise Specialist® Advanced Qualification from Nov 1 - Nov 23.

SPECIAL OFFER FOR ENROLLMENT:

$599

: Use code PINKOCT30 and save $1048 on the single payment of $1647

$11 First Payment

: Use code PINKOCT30 and start 6 Payments for only $11, then 5 payments of $130
(code PINKOCT30 extended for a limited time)
Add to your credentials and position yourself as the local oncology exercise expert for 50 million cancer survivors worldwide who need your help.
What's Included
Enrollment includes live instruction to go along with the course materials and benefits in the globally recognized Cancer Exercise Specialist® Advanced Qualification course:
All self-study materials (4 handbooks, 500 pages, dozens of videos, quizzes, 125 question final exam, business forms)

Certificate for your Advanced Qualification with a passing score of 80% or more

CECs with top health/fitness organizations

2 Year listing in the CETI CES directory + private CES group

$149 Renewal every 2 years

Business & Marketing sessions to help you grow your income with Cancer Exercise Specialist® services

Plus, our Pilates and Yoga Handbooks are also included, and if you'd like a Lymphedema flyer as a marketing tool, we'll help you create a digital version branded for your business.
The Cancer Exercise Specialist® Advanced Qualification 13th Edition includes new and updated books, videos, and online learning platform with the most up-to-date evidence-based material in the world. The course and content was developed for health and fitness professionals seeking to attain a higher level of mastery and work with cancer patients during and after cancer surgery and treatment and into survivorship. Participants will gain a complete understanding of the entire cancer process from diagnosis and treatment to reconstruction and survivorship. Our unique and individualized programming will help to improve the patient's ability to cope with the mental and physical stress following cancer diagnosis and treatment.
Our comprehensive programming covers 27 types of cancer, as well as pediatrics, with special emphasis on breast cancer and breast reconstruction.
Join Andrea Leonard, President and Founder of the Cancer Exercise Training Institute for this CES 4-week immersion program, including business & marketing sessions with CETI business advisor Greg Hendrickson.
***PLUS EXAM PREPARATION
Andrea will take you through comprehensive case studies, preparing you for the examination. You will have two attempts at the examination and must receive a passing score of 80% or better to receive your certificate. Once you have passed the examination, you will receive your certificate as a Cancer Exercise Specialist and listing on the CES International Directory.
You'll access Business & Marketing Sessions focused on the specifics of marketing your business as a Cancer Exercise Specialist with Greg Hendrickson. Plus, we have added a new session on "How to Build and Market Your Own Exercise Course for Cancer Survivors"
You will also be able to select your own time slot for an individual business assessment & planning session with Greg
LIVE VIRTUAL TRAINING PROGRAM: 13th EDITION CANCER EXERCISE SPECIALIST & BUSINESS/MARKETING SESSIONS
$749 Cancer Exercise Specialist Self-Study Materials, Videos, Quizzes, Exam & Certificate
$450 13 Live training sessions with Andrea & Greg including Exam Prep & Business Sessions

$299 One-on-One: Business Assessment & Planning Session
Access to 6 Kick-off Program Webinar Videos
$149 Early enrollment also includes the Pilates & Yoga Handbooks for CES.
$1647 Total
-$1048 (Enrollment Savings)
$ 599 ENROLLMENT SPECIAL OFFER
6 payment plan available
* If you are on a payment plan, you will receive access to the final examination upon completion of your final payment.
Your Instructor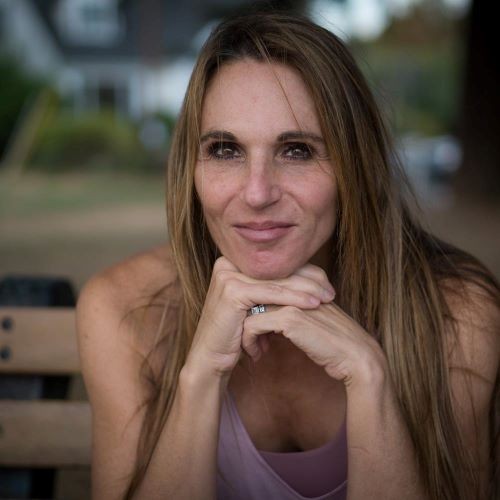 Courses Included with Purchase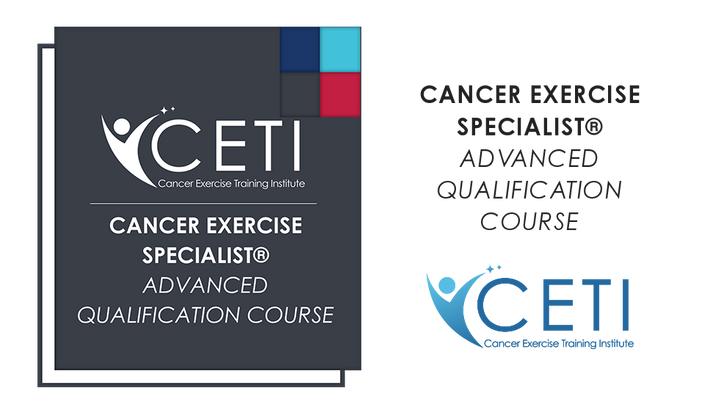 Self-Study: 13th Edition Cancer Exercise Specialist® Advanced Qualification
Training info, videos, downloadable PDF modules, quizzes, exam and resources.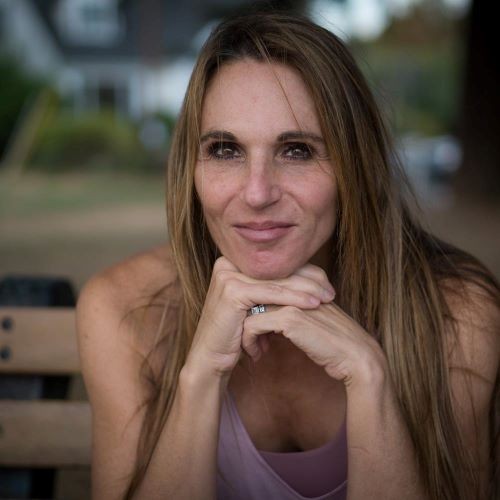 6 payments of $99/month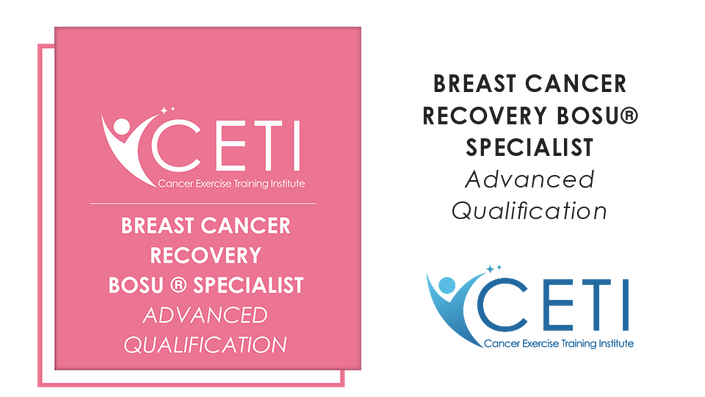 Breast Cancer Recovery BOSU® Specialist Advanced Qualification
Includes videos, PDF modules, quizzes, 90-question online exam, passing certificate and business forms.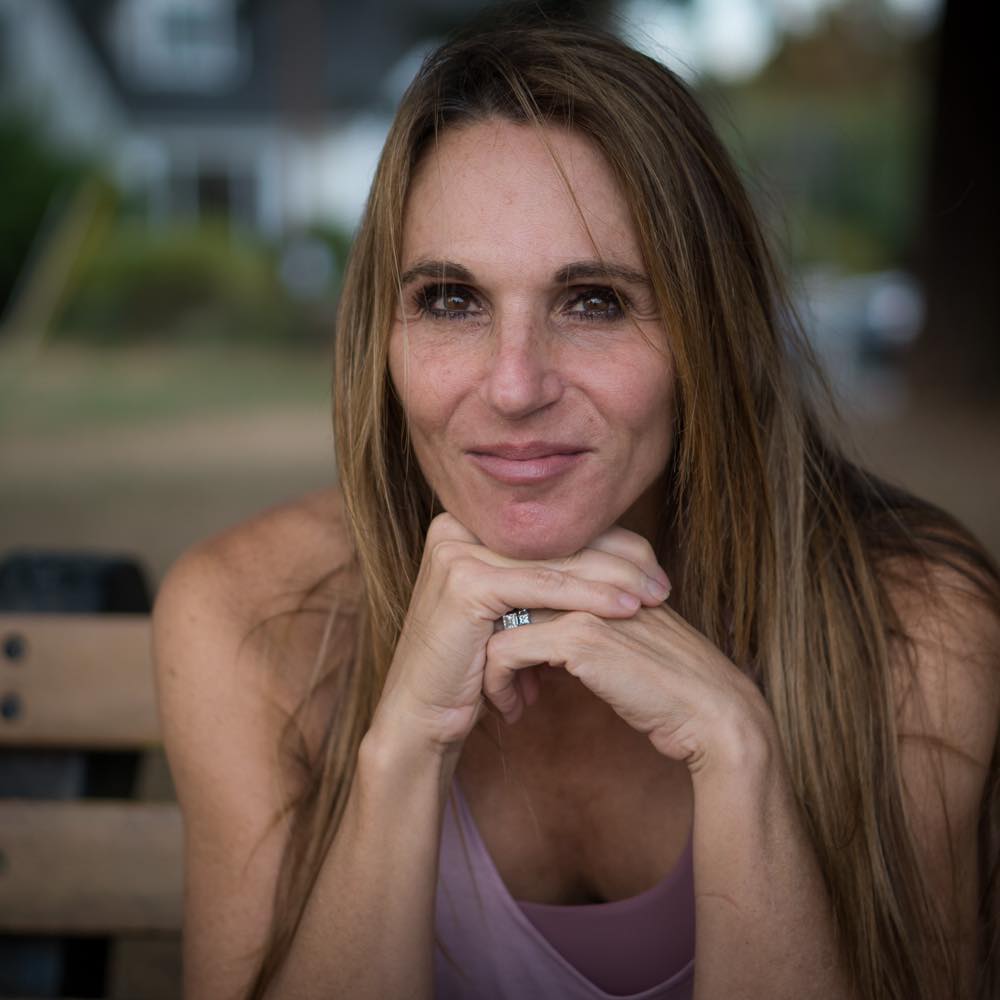 $549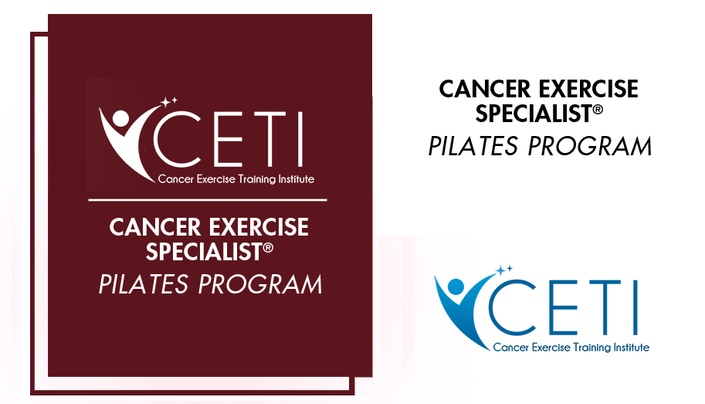 13th Edition Cancer Exercise Specialist® Advanced Qualification - Pilates
Training info, videos, downloadable PDF modules, quizzes, exam and resources.
$749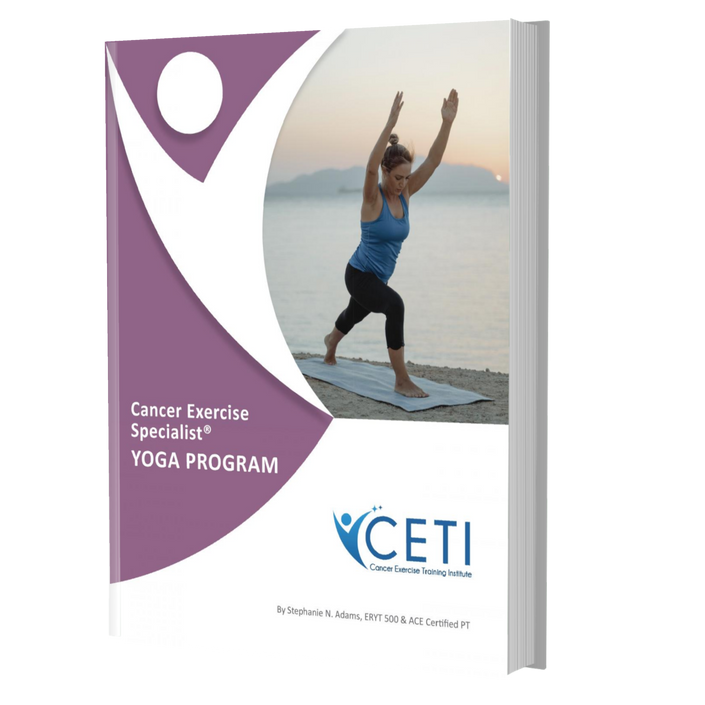 Yoga Handbook for Cancer Exercise Specialists
Customized Yoga Programming for Cancer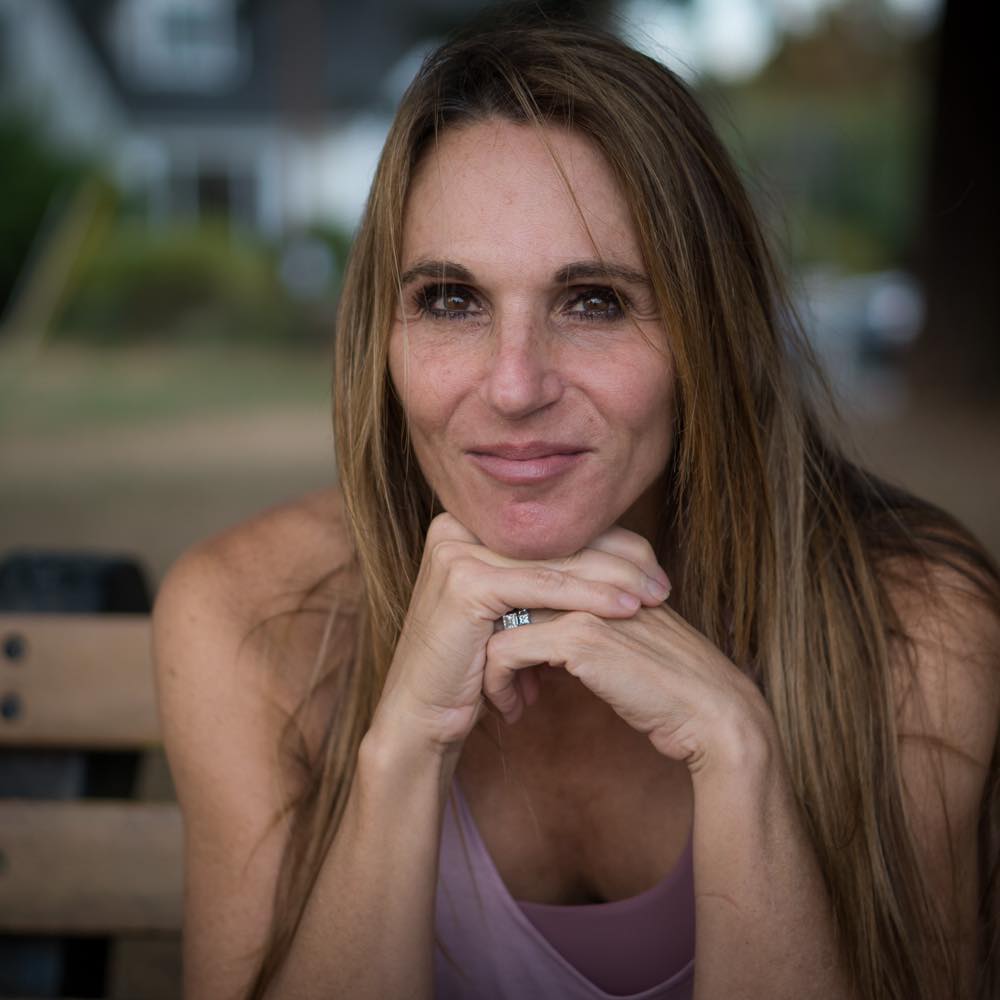 $69.95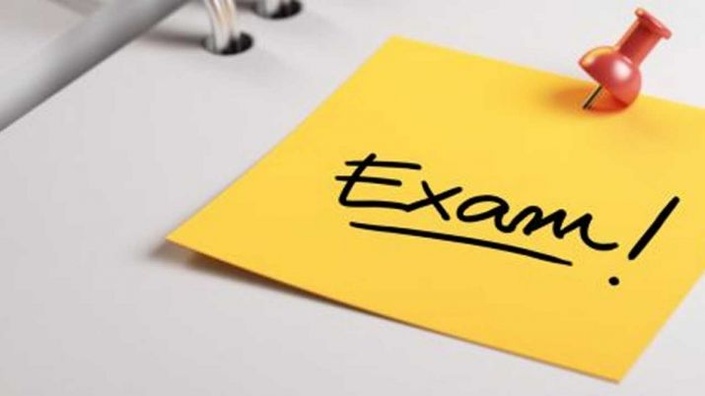 Final Examination - Cancer Exercise Specialist® Advanced Qualification
FInal Examination
$549
Original Price: $2,015.95
Frequently Asked Questions
When does the course start and finish?
The course starts as soon as you enroll with lifetime access to all the self-study materials. The live sessions will help you with all the self-study materials in an interactive live training format. The live training sessions will help you to stay on track for taking the final exam in a 3-5 week timeframe. However, you have up to 6 months to take the final exam if needed. You decide when you are ready for the exam based on the self-study and live session materials.
How long do I have access to the course?
How does lifetime access sound? After enrolling in the paid enrollment options, you have unlimited access to this course for as long as you like - across any and all devices you own.
What if I am unhappy with the course?
1. Once you are registered for a live workshop or webinar, there will be NO REFUNDS. 2. If a workshop is canceled due to low attendance, an attempt will be made to reschedule it for another date. You may participate in the home-study program which will allow you to obtain your CES Advanced Qualification and CEU's over the course of 180 days. Following notification of workshop cancellation, you have 14 days to request a refund. After 14 days there will be no refunds. 3. The Cancer Exercise Training Institute (CETI) has the right to cancel a workshop with a two-week notice due to low registration. CETI is not responsible for reimbursement of travel expenses incurred. 4. If you are unable to attend a workshop for any reason, you may convert your registration to a home study which will allow you 180 days to complete. 5. Once you have attended a live workshop, there will be NO REFUNDS given. 6. We want you to be happy with the course! However, if the timing doesn't work, or you are not satisfied with your purchase, you have 14 days to request a refund if you have not moved beyond Module 1. After 14 days, or once you move beyond Module 1, there will be no refunds.
SPECIAL OFFER FOR ENROLLMENT:

$599

: Use code PINKOCT30 and save $1048 on the single payment of $1647

$11 First Payment

: Use code PINKOCT30 and start 6 Payments for only $11, then 5 payments of $130
(code PINKOCT30 extended for a limited time)