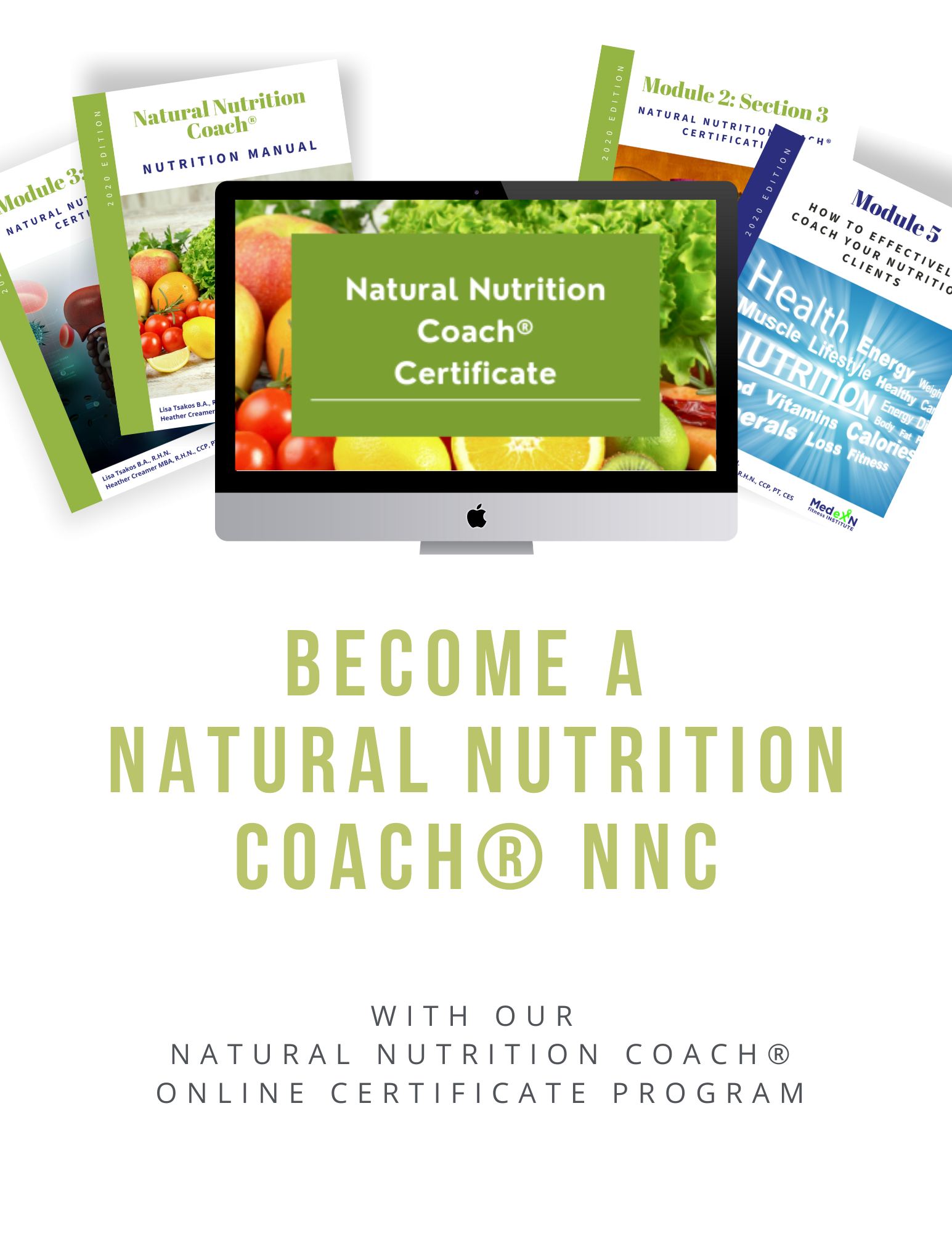 Implement a Natural Foods Diet in the Pursuit of Health and the Prevention of Chronic Disease.
Are you interested in natural nutrition that nourishes your body?

Do you like the concept of eating a cleaner, healthier, whole foods diet?

Would you like to connect with your clients on a deeper level?

Add Nutrition Consulting to your new or existing Fitness, Health, or Coaching practice to increase your revenue?

You would like to bring meaningful and long-lasting change to your clients overall health and well-being, with a total mind/body approach.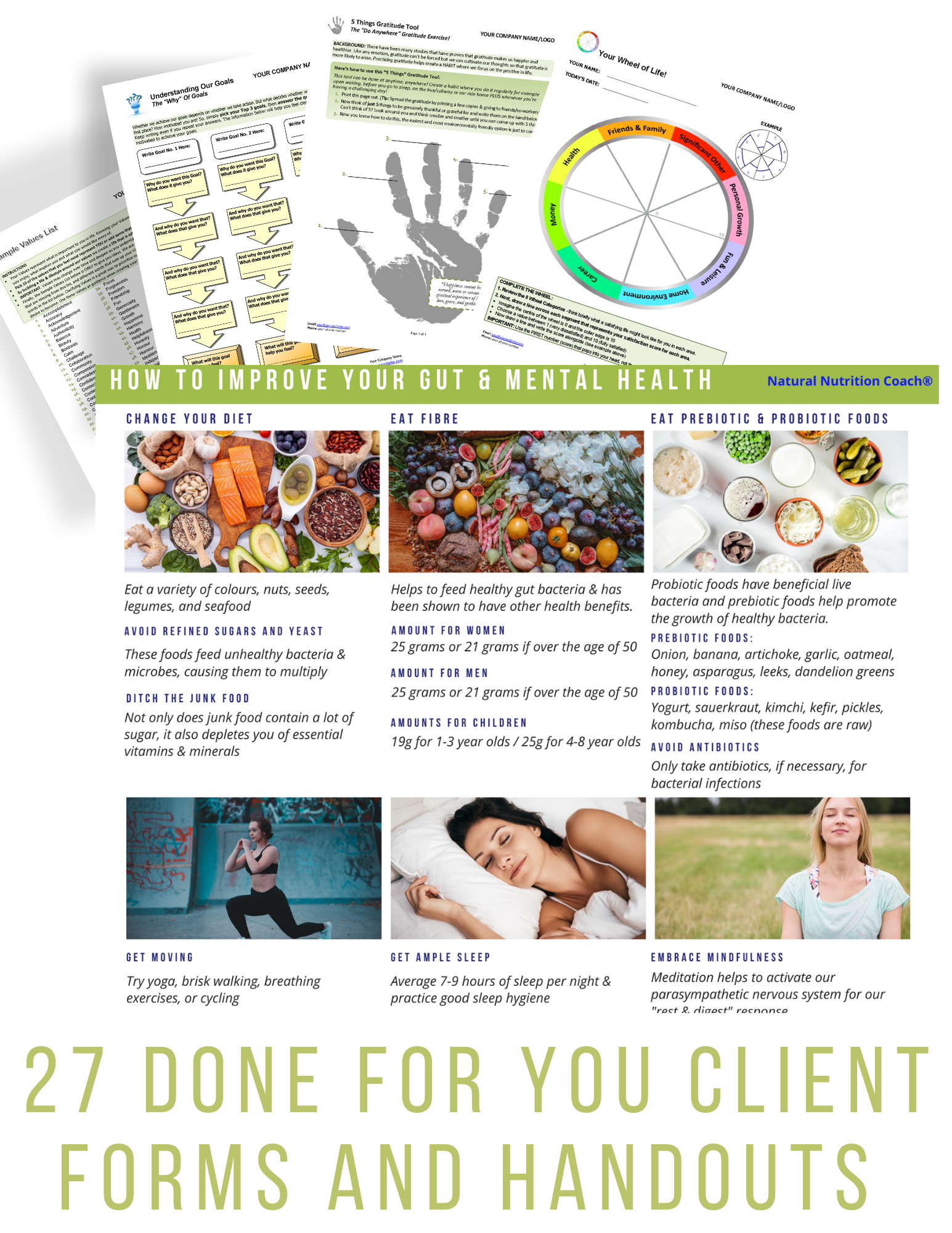 When You Enroll to Become a Natural Nutrition Coach®

You Will Learn How to:
Help your clients develop the habits they need to create long lasting change, and get the results they want and deserve.
Understand the additional factors to consider when the client is doing "everything right" and not making progress.
Implement effective coaching strategies that considers the whole body, because as Holistic Practitioners, we understand that "it's never just about the diet! "
Provides practical guidelines for developing a unique nutrition plan for your clients, especially those with a compromised digestive system.Its the Foundational Program That Will Get You Started in Nutritional Consulting!
COURSE OUTLINE:

MODULE 1:Nutrition Fundamentals
MODULE 2: Healthy Eating in The Real World
MODULE 3: Better Digestion, Better Health
MODULE 4: Finding a Balance – Stress & Diet
MODULE 5: How to Effectively Coach Your Nutrition Clients
MODULE 6:Resource Library
MODULE 7: Bonus Course: Nutrition Business Essentials
MODULE 8: Final Exam / Information for Grads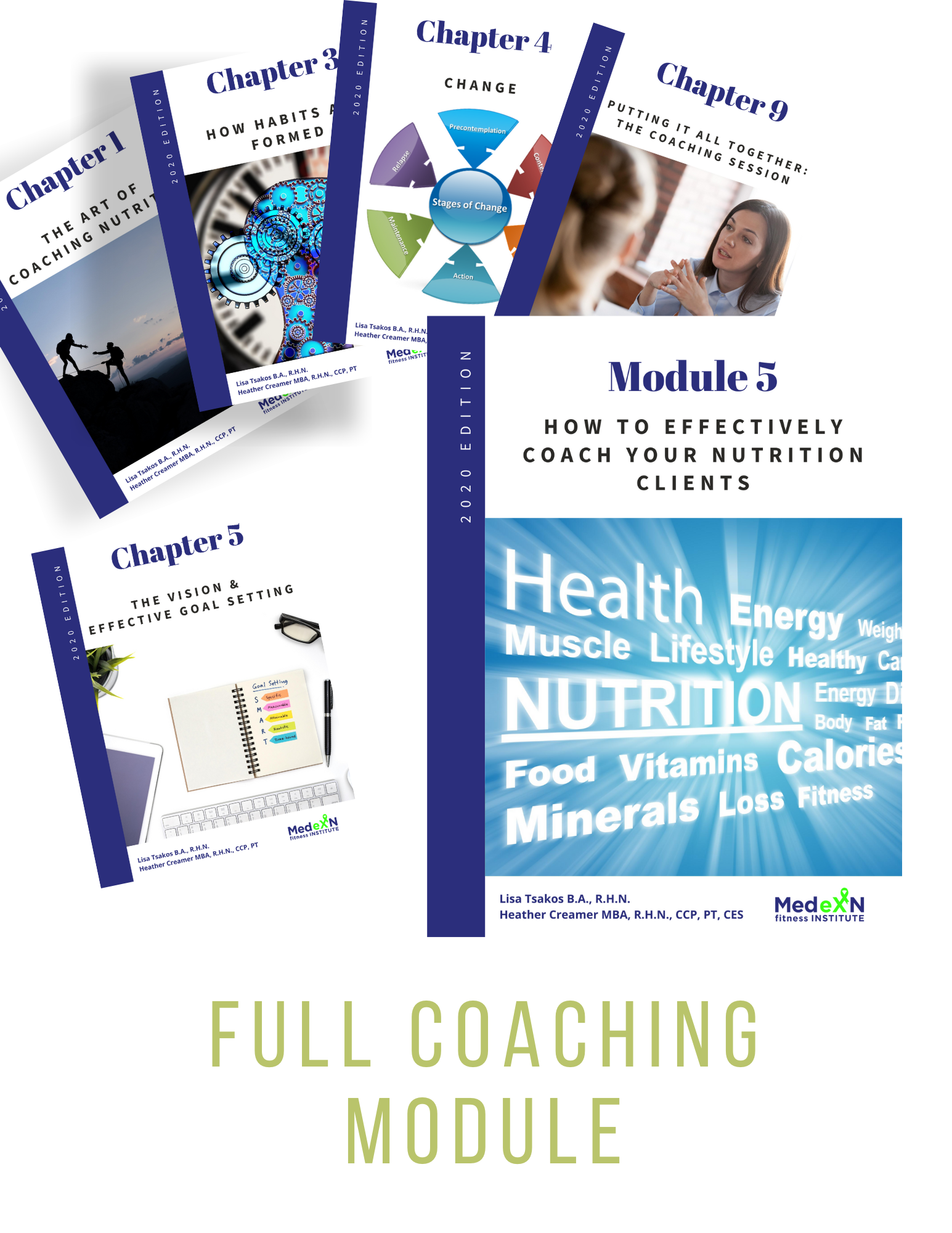 The Natural Nutrition Coach®

Program Includes the Module "How to Effectively Coach Your Nutrition Clients"
And… to help you implement your natural nutrition knowledge, in Module 5, we show you how to effectively coach your nutrition clients, so that they achieve the long-lasting results that they are looking for, which brings you even more referrals and helps you to build your business!
What We Will Cover in the Coaching Module :
These are just some of the topics that we will cover: How clients are motivated and habits are formed, the Stages of Change and how you can help your clients progress through them so they don't get 'stuck'; setting SMART goals, the levels of listening, effective questioning and what questions to ask, and how to use the GROW model framework for your coaching sessions. We also take you through an entire coaching session flow, and show you how to conduct an effective coaching session. We even provide sample coaching contracts which you can edit and personalize!
Your Instructor
Frequently Asked Questions
How will this course help me?
Have you ever had a client who despite doing all the right things, didn't make the progress that they hoped for? In many cases we know that losing weight or achieving a health goal is more than just about the diet, and we recognize that. It's why we have developed this unique program which has a focus beyond nutrition and looks at whole body health, with a special focus on healthy digestion. You will come away with a better understanding of what additional factors you may want to consider; and help your clients achieve the results that they want and deserve, bringing you more referrals! A Natural Nutrition Coach®: • Offers impactful dietary and lifestyle suggestions specific to an individual's health and lifestyle goals, rather than a cookie-cutter approach based on broad guidelines. • Provides practical information such as meal planning, recipe development, shopping assistance, etc. A Natural Nutrition Coach's primary objective is to evaluate a client's nutritional needs by identifying health imbalances and formulating a plan to bring the client's health back to a state of equilibrium. This is achieved by helping a person determine the foods best suited to their body at this time. The type of diet will vary for each person depending on their symptomatology and lifestyle. Our whole-person approach is client oriented and not based on a cookie cutter model or related to a particular product or methodology. Every person is unique and is therefore in need of a specialized program. The program does not subscribe to one particular eating style.
When will I receive access to the coursework?
Our partner will send you an email within 24-48 hours of your registration.
What is the difference between this and other nutrition courses?
While other nutrition courses designed for Fitness Professionals are mainly focused on weight loss, our program focuses on whole body health and how to coach your client to achieve long lasting change. In this course, you'll explore a new perspective—that food is a source of life- and health-sustaining nutrients, and that its purpose is to nourish all physical and mental aspects of your (and your client's) health. The course materials have a special focus on healthy digestion, as we know that it is a key factor for overall health. This is not a program that promotes one type of diet over another. This course is designed to teach you the principles of healthy eating and individualized nutrition and provides practical guidelines for developing a unique nutrition plan that works for your clients, especially those with a compromised digestive system.
Do I have access to the instructors if I need help?
Yes, we have a private Facebook group where you can ask questions and you can reach out to the authors via email.
Can I earn CEU's for taking this course?
Yes, this course has been recognized by several organizations for CECs and CEUs and the list of continuing to grow. We can also provide you with a petition letter to submit to your organization. Currently Recognized by: Canfitpro 4.0 CECs PTS, FIS, HWL NASM 1.8 CEUs NSFA 18 CECs